Avram Bar-Cohen, Ph.D.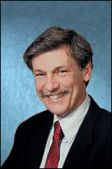 Biography
Intrachip Microfluidic Cooling - Gen3 Thermal Packaging Technology . by Avram Bar-Cohen, Ph.D., Presentation Keynote Speaker: Wednesday, August 29
From the dawn of the Information Age thermal management technology has played a key role in the continuing miniaturization, performance improvements, and higher reliability of electronic systems. During the past 65 years, thermal packaging has migrated from ventilation and air-conditioning to cabinet cooling, to package cooling with heat sinks and cold plates, and is today addressing on-chip hot spots and near-junction thermal transport. Following a brief history of thermal packaging, attention will turn to a review of emerging DARPA-driven micro- and nano-technologies for reducing the thermal resistance of defense electronic systems. The asymptotic maturation of current technology and growing thermal management demands in high performance computing and RF systems have led DARPA to initiate efforts in third-generation thermal management technology based on intrachip and interchip microfluidic cooling. The motivation, technological thrusts, and promise of this new thermal management paradigm will be discussed.

Choose category and click GO to search for thermal solutions