Deborah Chung, Ph.D.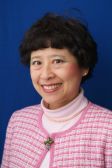 Biography
Materials for microelectronic and LED heat dissipation . by Deborah Chung, Ph.D., Presentation
Overheating is one of the biggest problems in the microelectronic and LED industries, as it limits the power, reliability, performance and further miniaturization. This problem particularly affects high-performance and high-power devices. For heat dissipation from a hot surface, heat needs to flow from the hot surface to a heat sink or a heat spreader. A heat sink is a thermal conductor that has a considerable heat capacity so that it serves as a sink for the heat. A heat spreader is a thermal conductor that serves as a conduit to channel the heat away from the heat source. Heat is dissipated from both heat sink and heat spreader to the environment. Suitable thermal insulation to avoid the dissipated heat to degrade nearly electronic components is often needed. Due to the low thermal expansion coefficient of semiconductors and their substrates, a low thermal expansion coefficient is preferred for the heat sink/spreader; otherwise, thermal fatigue may occur upon temperature cycling. The effectiveness of the heat flow from the heat source to the heat sink/spreader is partly governed by the quality of the thermal contact between the heat source surface and the surface of the heat sink/spreader. Improvement of the thermal contact requires a thermal interface material, which needs to be conformable. Conformability is essential due to the need to displace the air from the interface between contact surfaces that are necessarily not completely smooth. As long as the thermal conductivity exceeds that of air, a highly conformable thermal interface material is able to improve a thermal contact. A heat spreader can be isotropic or anisotropic; the latter has a low through-thickness thermal conductivity but a high in-plane thermal conductivity and has the advantage of providing some degree of thermal insulation so that the heat evolved does not affect the nearby electronic devices. The performance of isotropic and anisotropic heat spreaders depends on both the material and the dimensions, as shown by a heat conduction model.

Choose category and click GO to search for thermal solutions